Mid-October 2017. That's the month we decided to head off to the northeast and have a piece of the Sikkim Adventure. My research suggested October as the ideal month for visiting both Sikkim and Darjeeling. As the weather would be neither hot nor too cold.
Our plan was simple. Reach Bagdogra Airport. Take a shared cab to Sikkim. Rent a Motorcycle in Gangtok. Have a road trip to Nathula Pass and Changu lake. Spend the remaining days exploring Gangtok town. Then head to Darjeeling via shared Cab.
Except things never go as planned, do they? First off, Sikkim is not Goa. In Sikkim, you will not find a motorcycle rental easily. Nor will it be cheap if you do.
Who are WE, you ask? I am this guy. And my lady friend chooses to stay anonymous. Apparently, her parents (and perhaps the society at large) are not yet ready to see their unmarried girl have a big adventure out of their reach. To see their girl go on a motorcycle trip to Sikkim. To live.
Anyway, here we go. In Kolkata airport, towards Bagdogra.
Getting Ready for a Sikkim Adventure
After reaching Gangtok, Tourgenie handed me a Honda CBR 250 to scale the mountains. Now a few Heads Up. I had never ridden the heavy CBR 250 before. And I had never ridden a motorcycle on the mountains before. (Nathula was at a 14200 ft). So I was excited about doing both in Gangtok Sikkim.
The traffic police in Gangtok-Sikkim are extra crazy towards Motorcyclists, so I was told. You can't find a place to park your vehicle. You can't take a U-turn at nearly anywhere. Hell, you can't even Honk. (What!). Yeah, Gangtok has a strict no honking policy. Violate any of these rules and there is a Rs. 500 Fine.
Things were in a rush and I got my ride only a few hours before my ride to Nathula Pass. I didn't have any time to practice riding in the mountains, so the journey itself became my practice.
My mind was constantly juggling with
A. going the right way following Google maps (because, no U-turn)
B. keeping my balance on the mountains roads.
and C. not to Honk.
Us Odiyas love to honk our horns in Bhubaneswar streets, and honking is more like a reflex action for us. So it was too difficult to control the urge.
Juggling through all of these points, we started our journey from our hotel to Nathula Pass.
Sikkim Adventure One: Nathula Pass
You will have to head towards Ganesh Tok, a popular Ganesh temple and viewpoint to reach the road to Nathula. Only up to Ganesh Tok you will encounter Gangtok traffic. After that, it will be a 50 km smooth ride without much traffic.
The road to Nathula Pass is about 25 ft wide and damn snaky. You will be taking curve after curve while heading upwards. The mountain walls will be to your left, and the valley at the other side of the road. If you are going on a motorcycle, the safe speed should not be more than 25kmph.
Soon you will find yourself way above the clouds. You can take a look down the road and see clouds floating underneath. The wind is too chilly here so you must be ready with your winter jackets; especially in you plan on visiting here in the winters. All of these experiences are only possible on a motorcycle, being inside a car actually kills the fun.
I must say, the Sikkim Government has done one hell of a job maintaining the road to Nathula pass. The road is easily one of the best riding experiences in your life. There are army cantonments and tourist facilities at some points within the road but the journey is clear and secluded for the most part. Army trucks and heavy tourist vehicles also pass you by every now and then. Spotting other motorcyclists on this route is a semi-rare thing especially in winter.
Every vehicle and tourist entering into Nathula region requires a permit, which you can obtain from any tour operator in Sikkim. But you have to apply one day prior to your journey. Also, Nathula Pass is open for tourists only five days a week, excluding Mondays and Tuesdays. And only till 2 PM in the afternoon. So you need to plan accordingly.
Nathula Pass is a protected Army Site. You cannot bring any of your stuff like camera or cellphones here because strictly No photography allowed. The place will be crawling with Indo-Tibet Border Police on this side, and Chinese Soldiers on the other, divided only by a thin line of wires. Yep, folks, this here is India, and that there is China. You are standing inches away from Chinese territory.
Before visiting, I had read many where how patriotic it feels on top of Nathula pass. Yes, your chest swells with pride interacting with our soldiers on top of that ice cold mountaintop. They are absolute sweethearts. They served us hot coffee, cup after cup. And showed us around the Nathula Pass main gate, which is the official entryway to and from China. I also waved at the Chinese soldiers standing at the other side of the border. They giggled and blushed like little schoolgirls while waving back.
Our Soldiers acknowledged how cold the ride must have been and complimented us on being the only solo couple in months to arrive at Nathula Pass on a motorcycle. They also gave us a souvenir certificate for conquering Nathula Pass. Being complimented by the Heroes themselves, it made all of it worth it. Memories built for a lifetime, adventure one seemed to complete.
Not quite, no.
Riding in the Himalayas. In Rain.
It is actually safer to be going up than to come rolling down from a 14,000 ft height. The mountain walls constantly protected your left while going up. Whereas on your way back, there's nothing but an abysmal valley to your immediate left. Also, the vehicle would just keep rolling downhill for almost all the journey back (nearly 50 kilometers) even without any ignition. So I turned off the engine (to save fuel) and balanced the bike with brakes alone (Try this at your own risk). You don't want your tires to skid while taking a nasty turn and kiss the clouds while free falling, so the brakes will be your best friend.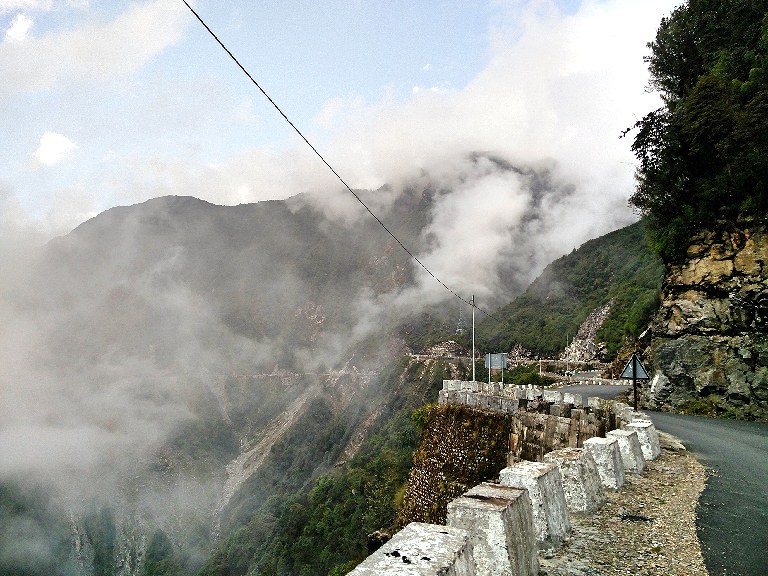 All in all, rolling down miles and miles on a turned off motorcycle was a lot of fun.
Then came the rains. It was almost 3 PM and the clouds that were way below in the beginning were now moving upwards. Clouds don't look blue and white when you are passing through them, they are more like dark and grey with rain coming through them. The snaky and secluded roads as it was, started getting worse because of the rain and the fog. The roads were getting slippery by the minute and you couldn't see anything beyond a few meters ahead due to the fog.
Soon enough, we got wet completely and shaking vehemently due to cold. There was no shelter to save yourself from the rain, you just gotta keep moving. Like I had mentioned, I had no prior experience in mountain riding, let alone in rain and fog. I decreased our speed to just 15 KMPH., no unnecessary risk-taking now. The waterfalls passing through the road were in full force due to the rain, they seemed to swallow our bike halfway. Curve after curve, circle after circle, our ride kept rolling down in the rain for 20 some kilometers.
Finally, the rains seemed to subdue. The secluded, slippery and foggy roads were behind us now. So was the excitement and the danger. We felt kind of lucky at that moment having pulled through all that. What remained was a feeling of achievement, glory, and living to the fullest. Like they say, Life begins at the end of your comfort zone. Looking back, it all seems too easy now, like we could do it a hundred times again.
A bright and vivid rainbow welcome us back into the path of civilization, towards Gangtok. The perfect end to our first day in Sikkim, and my first big Sikkim Adventure.
But day one was nothing compared to what was in store for us the next day. Read on about the Day two of our Sikkim Adventure in the next page.
Page 1
Page 2
Page 3