So I had used up all places in Gangtok and some in Sikkim, so I thought it's time to head to Darjeeling as my Sikkim adventure is finally over. WRONG, Sikkim wasn't done with us. Right, when we were escaping from Sikkim's clutches to seek safe harbor in Darjeeling; we were thrown on our faces the next big adventure in Sikkim.
We boarded the shared Tata Sumo to Darjeeling at 2 from the taxi stand in Gangtok. Like all other days in Sikkim, this one also started perfectly, without seemingly an iota of a chance that anything could go so horribly wrong. It was supposed to be a five-hour journey, Gangtok to Darjeeling, so we should be reaching our booked hotel in Darjeeling, at about 7?
We wish! We were on the NH10, enjoying the sight of the evergreen Teesta river flowing alongside the road. It was a one-way road, and not too wide. All our luggage was fastened tightly on top of the vehicle, the time was 3 in the afternoon, and we spotted a traffic jam ahead. Not the kind of traffic jam you would want to be in. It was stretching for miles. And miles. Far as your eyes could see in these snaky pathways they call highways. "Nothing to worry, it should clear up soon", said our driver.
Sikkim Adventure Three: The Roadblock
But nothing seemed to move, not a single vehicle. We kept waiting. Our driver finally got down and went on foot to get more information. We waited. An hour passed, other vehicles kept on jamming behind us. No one had a clue what was going on.
Our driver soon returned with a long face. He didn't say much. Only this "It could take many more hours."
What choice did we have? With nothing to do and nowhere to go, all passengers got out of the vehicle. And joined the hordes of other passengers from the other vehicles. Ninety percent of those vehicles were loaded with tourists, and nobody had a fucking clue what was happening. Or when anything will happen?
Thankfully we were parked in a market area, so there was enough food and water even when we were stranded here. But how difficult waiting is. We had thought of finally relaxing in Darjeeling after the three tough days in Sikkim, and starting this evening. Now we don't know when, and if we'll reach Darjeeling anymore. We couldn't even turn back to Gangtok now, as even behind us the vehicles have been piling up for miles and miles.
All of this was too much. We weren't really going anywhere, so I decided to take a walk and visit the source of the problem. Left my lady friend along with the other passengers, all sitting and chatting in that market area. And started walking.
A good 15 minutes walk alongside the parked vehicles on one side and the Teesta river-valley at the other. Gradually the parked vehicles subdued, followed by a dense crowd. Many policemen, and even more Army personnel. There I witnessed the problem. A gigantic Army truck carrying emergency medical supplies had fallen down the river. Maybe a hundred foot deep. And two large cranes were trying to get it back on the road. Blocking all vehicular movement on both sides in the process.
This was taken 3.30 in the afternoon.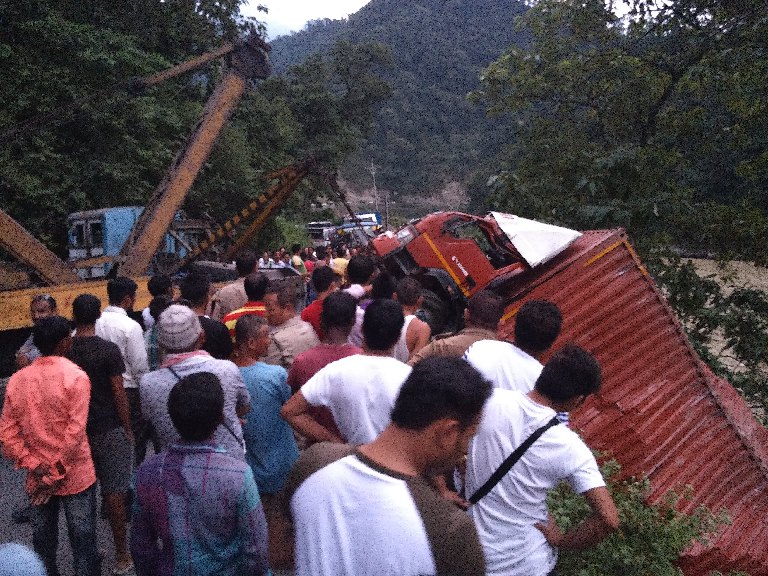 A Military Rescue Operation
I took a grasp of things by talking to the people gathered as well as a few policemen. Apparently, it was a poor management decision to block the roads in the middle of the day. The Army officials acknowledged that they should have started the rescue operation at midnight when there was less traffic. But anyway, the Cranes are already here, they have already attached the hooks to the fallen truck, even have managed to get it out of the water and hanging midway in the valley. Now nobody has any choice but to wait for the rescue mission to complete; until the truck is back on the road.
So it went on. Minutes turned into hours. The truck must weigh a few tons, and it required strategic rescuing. One wrong move and the dead weight might even drag the two Cranes back into the valley, into the River. So the placement of the hooks was being carefully changed after every few feets of elevation. Crane engines revving, the smog of diesel burning and the crowd roaring with every movement of the truck.
Soon it started getting dark, and the rescue was not even halfway through. We were standing on a mountain road overlooking a valley and the power had been cut in the whole zone due to the rescue operation; as the power lines were too close to the Crane's movement. Soon the clock hit Seven and it got pitch black everywhere. That is when the operations slowed down significantly, nothing was visible down the valley. Everyone started fearing that they might even have to spend the night here on the road. There were a few army men with flashlights. That, combined with the Crane's headlights, that was all that's available to get the mammoth sized vehicle moving up. And clearly, they weren't enough. Especially in order to see how the Truck's holding up vertically hanging in the valley. A couple of men turned on the flashlights on their cellphones to assist the army, but most didn't. No one wants to be stuck out here with a dead cellphone because they used up their batteries on the flashlight. Somebody had to do something, the mission could use all the help it could get.
I had already walked to and from the market and our other passengers several times now, and been giving them updates about the rescue. Only this time I walked back looking for help. I purchased the most powerful flashlight the market had to offer and went back to the rescue zone. Everyone in the crowd even made way for me seeing the light in my hands, and soon I was at the front line of the rescue operations along with the other torch-bearing army men. I kept glaring the light down the road towards the hung vehicle as the hook operators moved back and forth the valley doing their thing. The Cranes and its operators kept doing their job, one strategy at a time.
This was taken at 8 in the evening. Notice how dark the whole area is?
Little by little, finally the truck reached a position from which it won't fall down again. 3 PM to 9 PM. 6 hours worth of waiting, and quite some effort. But the mission was finally a success.
The Wait Seemed to be Over
You should have seen the speed with which everybody got back into their cars and buses once the army gave the green light. The trail of vehicles has now stretched for like ten kilometers, both ahead and behind us. The rescue mission was a success, it doesn't mean everyone can hurry off on their journeys. Vehicles moved at a speed of less than 5kmph, and with constant halts. This went on for another couple hours. Our driver proclaimed it as the rarest of rare events on this road, being the first ever he has witnessed in his career. Had to be on the day we were traveling, too fucking great.
The entire highway was full of petrol and diesel smog due to the rush and sudden vehicular movement. Not an ounce of fresh air, nowhere to escape to. My lungs must have breathed a lifetime of pollution in a couple hours in that traffic on that God-forsaken day. Everyone was looking sick, especially my lady friend who seemed almost lifeless on the verge of such punishment. To think how the previous two challenges went in Nathula and Temi Tea Garden, they were too good the memories compared to this one. I would still choose those experiences many times over this.

Long story short, the traffic finally cleared and our driver revved his Sumo round and round uphill, to Darjeeling. All of us were sick, hungry and exhausted. I and my partner were looking for nothing more than a clean shower, a decent meal and to rest for the night in our hotel.
But Was Our Hardship Over? Hell No.
The day was cursed indeed. Little did we know that Darjeeling and the nearby areas turn into a ghost town as early as 9 PM in the night. Check out our journey to Darjeeling at 10 in the night in the below video.
As you can see, a Ghost town. Apparently, Darjeeling was undergoing through a rough patch in history with the ongoing protest against the West Bengal Government. It seemed to me like everyone just packed their bags, locked their homes and left. Not a single light was on. Not a single soul in sight, humans or animals. Only the loud hum of insects, tall pine trees and abandoned looking buildings.
For city dwellers like us, we were completely unprepared for this. No restaurant to buy dinner from, not an open shop to buy even a bottle of water. We called up our hotel and he confirmed the same thing. That Darjeeling shuts down early evenings. Sure, we would stay in our hotel but we just have to sleep hungry. Some hospitality, some welcome into Darjeeling.
That was the last chapter in the three days of grueling Sikkim adventure, and we lived it.
My overall Sikkim experience is mixed. I wouldn't say it was all rosy and good, but it was like life itself. Full of ups and downs. I am just happy that we faced this adversity and conquered them all as a couple. This is not something most couples do. This is not something most people do.
If you are planning a trip to Sikkim or Darjeeling soon, you can take cues from my experiences on what to know before heading to Sikkim & Darjeeling.
Page 1
Page 2
Page 3