Manali is one of the most popular tourist places in India. The distance between Delhi to Manali is about 550 km. So travelers from all around India first reach Delhi and then travel to Manali through road or air. I recently took this distance on a bike and in the winters, around the Christmas of 2016. All total it was a 1300 km of journey, half of it were mountains. As someone in Delhi, you may wonder how to reach Manali from Delhi. I have tried to explain the best routes possible.
How To Reach Manali From Delhi
There are all sorts of ways to travel from Delhi to Manali. Some might ask, why did I take this painfully long & difficult ride to Manali? Why not simply take the easy ways like a bus or a car? Well, first let's evaluate all travel options from Delhi to Manali.
Disclaimer: The below numbers are mere estimates and are accounted in January 2017.
Option 1: Delhi To Kullu To Manali
Take a flight from Delhi to Kullu (Bhuntar). 1.5 hours, Rs. 6-8k.
Then take a cab for the remaining 50 km, from Kullu airport to Manali. 1.5 hrs, Rs. 2-3k depending on the vehicle. (SUV/Hatchback etc).
About 4 hours of journey to reach Manali from Delhi, and Rs. 8,000 per person.
Option 2: Delhi To Chandigarh To Manali
Take a flight from Delhi to Chandigarh. 1 hour, Rs. 2,000-3,400.
Then take a bus from Chandigarh to Manali. 8-10 hrs, Rs. 900-1,200.
Reach Manali from Delhi in 11 hours of journey and Rs.3,500 per person.
Option 3: Delhi To Manali Bus Ride
Take an overnight A/C semi sleeper bus from Delhi to Manali.
Reach Manali from Delhi in 12-14 hrs, nearly Rs. 1,200 per person
Option 4: Delhi To Manali Self Drive
Drive from Delhi to Manali through a personal/rented car. Preferably in a group of 4-5 people.
14-15 hour journey to to reach Manali from Delhi with minimal stoppages. Petrol/Diesel total cost will be around Rs. 2,500-3,000 on a hatchback model averaging 15 kmpl. Another Rs. 1,000 if it's an SUV. Rent costs will be extra if applicable.
Option 5: Delhi-Manali On A Motor Cycle
1-2 people. 15-17 hour journey, (1.5 day ride, daytime only).
Petrol Cost nearly 2000 on a 150+ CC bike averaging 35 kmpl.
Looking at all the available options, the fastest option is Option 1. It is also the most expensive per person.
If you are driving a personal car the cheapest option is 4. Otherwise the cheapest option is the 3rd.
Option 3 is also the best one if you are a solo traveler or a group of less than 4 people. Both in terms of time taken and expenditure.
Why A Motor Cycle Journey Is Better Than Car / Bus
Let me now explain why Option 5 trumps all others. Even though it is the slowest.
 1. Time Flies On A Bike, Time Drags Inside A Car/Bus.
Delhi to Manali is a lot of distance,. But riding timing is fast time. On a highway you would literally cross tens of miles and it would seem like minutes. Whereas in a car/bus, time doesn't seem to pass. You do some sightseeing through the window, but soon enough you find yourself tinkering with your cellphone. It's not uncommon to waste most of the journey sleeping your ass off. It just isn't interesting enough under a roof, waiting for Manali to arrive.
2. You Are In Control.
You are in complete control of when you stop and romance the view. Explore an alternate route. Have a cup of tea. Take a snap of a lifetime. Stop and pee. Ride slow, soaking in the scenery. Or ride fast, to reach the destination.
You are the creator of your path, you are the master of your destiny. Unlike in a car or a bus. You are mostly a passenger, and will be so throughout the journey. So hold your pee in, not having a clue when you passed some of the most beautiful sights on your way to Manali.
3. Traffic Problems Don'T Worry You
Ah, then there's the dreaded traffic. Isn't that why you headed for Manali in the first place? To avoid city traffic.
Wish you were on a motor cycle. Just snake your way through, look back and bid adieu to all the people still stuck there.
4. A Bit Of Soul Searching
A long distance motor cycle ride calms your mind and makes you full of happiness & hope. Your lungs fill with fresh air. You have a lot of progressive thoughts & clarity about your life and what is important to you. Riding symbolizes moving forward, never stopping & never looking back.
Not the same when you take a car/bus journey. It's not easy to be calm & easy in a congested, claustrophobic environment. It's hard to focus or immerse yourself into nature when others are jabbering around you. So you listen to some music or watch a movie on your phone to kill the distance. Like really?
5. Bonding & Teamwork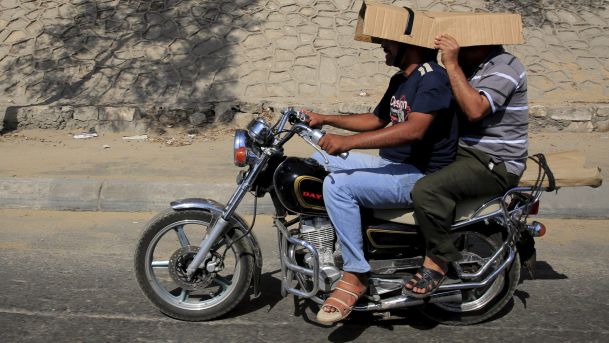 If you are two people riding, for sure you will come back much closer companions. Together you were in for the long haul. Like literally.
6. You Will Remember & Enjoy The Journey More Than The Destination.
Riding a two wheeler gives you a 360 degrees HD view of the journey. On your way to Manali it would include wide empty roads, mountains, nature trails, rivers, bridges, villages, laid back lifestyle, people and everything else under the Sun. Hell, the Sun itself! You create stories, & memories.
Now you can't have the same view or memories in a 1 x 2 ft glass window of a car or a bus. It's almost the difference between seeing the beach on TV and being there in person. Whatever happened to "journey is more important than the destination?"

These are some of the important reasons, on why a bike is way better.
Now, your call!